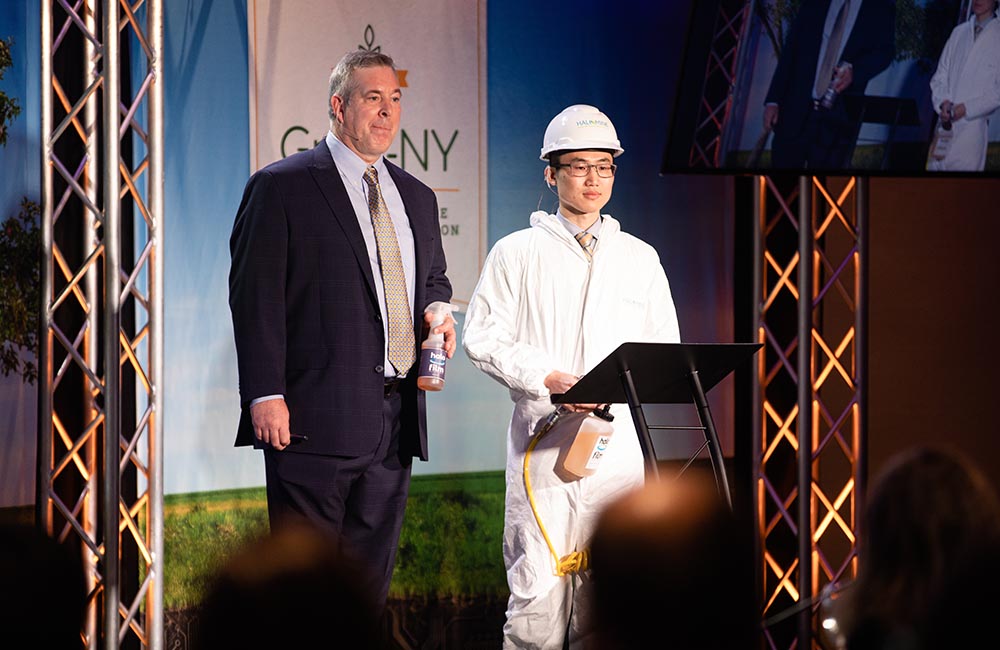 Antimicrobial Tech Startup Receives NSF Funding to Fight COVID-19
Halomine, a Cornell-based startup, which developed an antimicrobial coating technology capable of keeping surfaces clean by significantly extending the life of chlorine-based disinfectants, is being fast-tracked for commercialization to determine how effective it can be in the fight against COVID-19.
The technology was developed by Minglin Ma, associate professor of biological and environmental engineering in the College of Agriculture and Life Sciences, and former postdoctoral researcher Mingyu Qiao, as part of a USDA-funded project developing high-performance antimicrobial materials for agriculture and food safety. Realizing that their technology could also be applied to the public health sector, the researchers teamed up with CEO Ted Eveleth, MBA '90, to launch Halomine with support from STSA business incubator, Praxis Center for Venture Development, and the Cornell Center for Materials Research.
"Originally, we were targeting bacteria for agricultural use, but the problem of bacteria is the same in the hospital," said CTO and co-founder, Qiao. "Then this pandemic happened, so we quickly responded to the virus outbreak. When you're an academic, your technology may only have one stated purpose, but if it's a very good technology, you suddenly find it has a broad application and can address some immediate crisis."
The company's flagship product, HaloFilm, has been recognized by the National Science Foundation for its potential to fight COVID-19. On May 12, the startup received a $225K NSF COVID-19 Rapid Response Research (RAPID) award to help fight hospital-based infections related to COVID-19, followed by an additional $256K RAPID award on May 21 to fast-track the development of HaloFilm and make it readily available for preventing COVID-19 from contaminating private and public spaces.

HaloFilm can be used on a variety of surfaces and materials, including plastic, metal, and fabric. After spraying it on any surface, chlorinated cleaners or sanitizers can be applied on top, and it locks in the chlorine and keeps high-touch surfaces bacteria and virus free for up to a week before reapplying. Typically, these chlorinated cleaners or sanitizers would only last up to an hour.
Halomine – which was a 2019 Grow-NY finalist and participated in the Upstate New York I-Corps – has partnered with the Kevin M. McGovern Family Center for Venture Development in the Life Sciences, another STSA business incubator, to conduct additional biological research and testing against COVID-19 and other coronaviruses.
Learn more about Halomine and their innovation by reading the full story in the Cornell Chronicle.